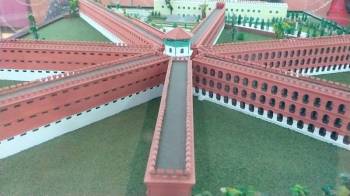 Our representative will receive you at Veer Savarkar Airport, Port Blair and will escort to the hotel, he will also assist you to do hotel check-in formalities. After check-in and little relax, you will be taken to the following places.
Corbyns' Cove Beach: The Corbyns' Cove, is a serene and unspoiled soft sandy beach, set in picturesque background of lush green coconut palms and pleasant blue sea. The main attractions of this beach are the inviting water sports. The Corbyns' Cove beach, situated 8 kms from the City centre is the closest Beach from the city. This coconut- palm fringed beach, is ideal for swimming and sun bathing. After lunch we will move towards:-
Cellular Jail: This historic building was built in the 19th century to look like a wheel with seven spokes. Today only three wings of the seven remain. It took 10 years to complete. It is called 'Cellular' because it is "Cells beyond Cells".
Sound & Light Show: At the National Memorial 'Cellular Jail' you can attend the Sound & Light Show where the heroic saga of the Indian Freedom Struggle is brought alive by the means of light and sound at the jail premises, presented in English and Hindi, which takes you back to the British Era.