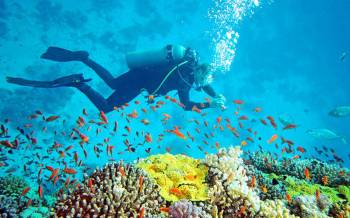 After breakfast proceed towards Rajiv Gandhi Water Sports Complex for day excursion to North Bay and Ross Island.
During British rule Ross Island was developed to a perfect township.
Ross Island presently houses the ruins of old buildings like Ballroom, Chief Commissioner's House, Govt. House, Church, Hospital, Bakery, Press, Swimming Pool and Troop Barracks, all in dilapidated condition, reminiscent of the old British regime.
North Bay Island is famous for underwater corals; it is ideal place for Scuba diving, Underwater Sea walk and snorkelling to get a glimpse of marine life. Upon Return from these famous destinations rest and relax.
Return back to Port Blair and we take you to FLAG HOSTING MEMORIAL and MARINA PARK. Post this we drop you back to your Hotel where you relax and unwind.
NOTE: INR 1000/-Free VOUCHER for SCUBA DIVING PER HEAD at NORTH BAY.