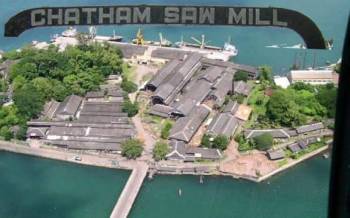 Samudrika Museum: It is run by the Indian Navy. The museum has seven sections presenting Geographical information, Marine life, Archaeology and people of Andaman. It has a good collection of shells, corals and a few colorful fishes.
Anthropological Museum: It was started in the year 1975-76. It illustrates the four Negrioto Tribes of the Andamanese viz; the Jarawas, Sentinels, Great Andamanese, the Onges and two Mongoloid tribes of the Nicobar Viz; the Nicobariese and the Shompens. It not only describes the life style of the nomadic tribes of Andaman and Nicobar Island but also defines their stage by stage development till the present age. The articles on display are the various handicrafts, tools, weapons, arts and crafts, and photographs etc.
Chatham Saw Mill: It is one of the oldest and largest Saw Mill in Asia lying on the tiny island connected by a bridge over a stretch of sea-water. It was set up in1883. It is owned by the government. It is still using the machinery set up initially by the British for wood processing. It was targeted by the invading Japanese forces in March 1942.